Art & Spirituality Workshops
All children are artists.
The problem is how to remain an artist once one grows up.
~ Pablo Picasso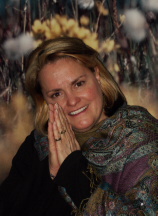 The Art & Spirituality Workshop Series is hosted by spiritual artist and teacher Rebecca Couch. One of the best ways to get to know ourselves more deeply and to achieve a greater connection with our higher selves and Source is through creative expression. So no previous art experience is necessary, just an open willingness to get to know and express your true self is all that is required! The awakening of your imagination and expressing yourself creatively guarantees an open heart experience filled with lots of fun!
Workshops are three hours in length and can be combined for a full-day session. Meditation, inspirational music, body movement, group synergy and lots of laughter are all promised in these insightful and fun workshops.
To host a session in your home or business, a minimum of six participants is required (the host receives complimentary registration).
Workshop registration includes refreshments and all art supplies:
Three-hour workshop, $80
Full-day session (9 am - 4 pm) including lunch, $175
Workshop Series

Chakra Art
Learn the basics of your chakra system and how to tune into their emotional energy. Exploring their colours, shapes, signs and symbols will help you connect in a deeper way with what is happening inside you. Shifting your vibration shifts your external experience, so this is a powerful tool for affecting the law of attraction to your benefit. Record on paper, through a variety of media, what your chakras are telling you. Balancing, healing and fun are all guaranteed in this session!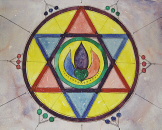 Create Your Personal Mandala
Mandala is a Sanskrit word meaning "circle container of essence". The meaning and power of the circle is eternal and represents the cycles of life - birth, maturity, old age and death - to be reborn again. The circle also represents the universe. The mandala is an ancient concept that exists in many spiritual practices around the world. It is a centre of focus, a visual meditation, and a place where the inner and outer world meet. It records the messages of the Soul.
The signs and symbols of all aspects of ourselves are just there waiting to be expressed. Rebecca guides you through processes to receive them from your higher self to create your own personal mandala. This focused expression of yourself provides a valuable visual reminder of the kaleidoscope of all that you truly are!

Art Attracts!
The universal Law of Attraction says that which is like unto itself is drawn. Explore the ways in which the powerful law works in your life and how you can use it to create the life you truly desire. What we focus on expands, so through the power of art, we will create a more clear vision of what you want to create. We will also explore and change the blocks that are on your path to being expressing your true self.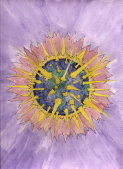 Unlock What Blocks
Expressing yourself artistically is a powerful process of connecting to what is going on inside you. Through expressing your emotions in the creative process, you will learn what hinders, expands and inspires you. Fear restricts and love expands, and art expression helps you discover more of the love that you are.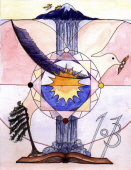 Peace of Art
World peace begins within. In the search for inner peace comes a commitment to assisting the world achieve greater peace. This workshop explores what peace means to you and to discover what your contribution is to creating greater peace in your life. Create an art piece about peace to remind you of its importance for all of us!
To express your interest in participating in or hosting a
Spiritual Art Workshop
with Rebecca, please call 905-939-1071 or send an email to:
heartlight@rogers.com